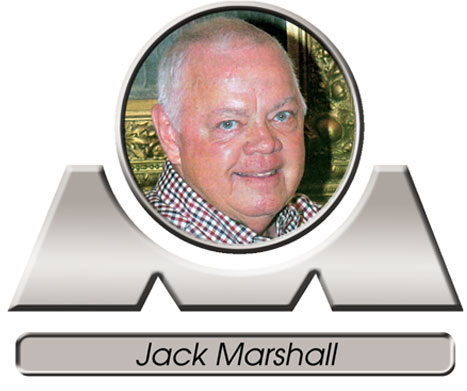 Elvis Presley, The Blackwood Brothers, Roy Rogers and Dale Evans, Sammy Davis, Jr, The McGuire Sisters, Arthur Godfrey and Tennessee Ernie Ford. What did all of these people have in common? They all knew Jack Marshall!

Born in Holt, Alabama, Jack picked up a love of music very early in life. Being from a very musical family, Jack started with the guitar at the age of 5, moved to the violin and later conquered the joy of his life...the piano.

Some of the first music Jack learned to play on the piano was classical and by the age of 12 performed a concert that led to his career in playing for Gospel groups. Word was getting out that young Jackie Marshall was one pretty good piano player and that is how the Hartford Quartet snatched him up. He was now on his way to his first full-time job!

Times were exciting for Jackie and just when he thought it couldn't get any better, a quartet from Atlanta heard him play one night. They knew the Blackwood Brothers needed a pianist and as they would say, the rest is history. Jack would play with the Blackwood Brothers for the next ten years.

The Blackwood Brothers, along with Jack were invited to be on the Arthur Godfrey Talent Scouts Show. For those of you who are too young to remember, this is like today's American Idol. The Blackwood Brothers won the competition and the group became famous overnight.

Two weeks later, tragedy struck when two members of the quartet were killed in a plane crash in Clanton, AL. They regrouped and Jack stayed on with the quartet for about five more years. During his time with the Blackwood Brothers, Jack started marketing a music course which he wrote and called "The Marshall Plan." He had over 10,000 pupils in 28 countries. Simultaneously, he was operating a music store, music studio and had started his own record label. He was also the first person to help design a typewriter that would type musical symbols, which he used to write the piano course.

When Jack was about 20 years old and performing with the Blackwood Brothers, he met a young boy by the name of Elvis Presley. Elvis and his mother Gladys would come to church to hear the group sing. Jackie Marshall became Gladys' favorite piano player. Some years later, when Elvis had a band, they were all booked at a Pecan Festival in Texas. The ad poster read, "The World Famous Blackwood Brothers with Jackie Marshall at the Piano," with little letters at the bottom announcing Elvis Presley and his band. Jack and Elvis became good friends and when Gladys died, Jack was asked to play at her funeral.

Jack eventually gave up his professional music career. Always one to plan ahead, he invested in a Kentucky Fried Chicken franchise back in Tuscaloosa. Being on the road all those years took a toll and he felt he was needed back at home. While closing things down in Memphis, his family helped to get the KFC restaurants up and running. Help came by the way of Mom and Dad and his brother Sam and sister Jane. Over time it has been a family affair. Now Jack Marshall Foods, Inc. is 28 stores strong with locations in four states...Alabama, Kentucky, Mississippi and Tennessee.

Jack's great love of music continues and though he loves all music, his favorite is gospel. He has helped his friend, Zelpha Wells with her program which teaches piano to school age and under-privileged children here in Tuscaloosa. Both Wells and Marshall are members of the Alabama Jazz Hall of Fame.

Jack believes mucis is and always will be the universal language of the soul and is extremely happy to have been a small part of it. Thus his philosphy to life and business.
For questions or comments - Contact Us